Designed for MS Windows 7, 8, 10
Maintenance, Service and testing!, On Time!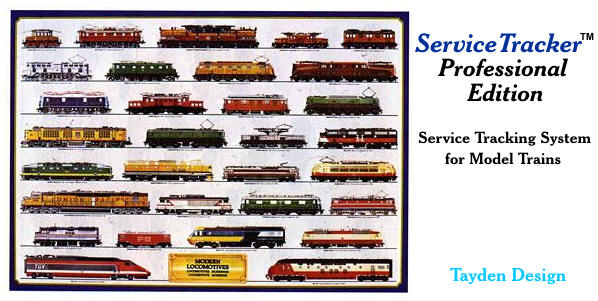 ServiceTracker Professional Edition™
Introduction
is an advanced service tracking system for model trains.
Did you know that if a mechanical system is not operated for more then 2-3 months, it could cause failure during its next activation? Even if the mechanical system is well packaged and lubricated. Temperature differences, natural forces of inner material or even rust may cause irreversible damage to this mechanical system. For example: Car manufacturers recommend starting and running the car at least once per week during long storage period. This also includes aircrafts. All systems must be activated periodically to maintain full functionality. The same rule applies to your model railroading rolling stock!
This is necessary especially if you have rare collectible items such as old or unique locomotives, trains, cars or any other rolling stock, motorized or not. This is a must if you have very old trains, cars and cranes or even die cast cars. All these items need to be periodically checked and activated. Typically the manufacturer of each item recommends maintenance be done after a certain amount of operations hours. The most needed maintenance to be performed is lubrication. Other maintenance needs may be light bulb replacement, the refill of smoke oil, and the replacement of rubber tires or advanced electronic system check. Some manufacturers recommend running the item for some time periodically but are we doing so? Typically, we well package our rare collectibles. Items that we value and once in a great while take them out for show only. Well, these items need to be run. The mechanical systems need to be periodically activated. Otherwise, in the event that you would like to test run your rare trains, they might not work… The tooth wheels can be stuck, the electrical motor may not work or any other moving part may not be working properly simply due to the fact that it was not operated for long period of time.
Maintenance, Service and testing! These are key functions to maintaining your items in good running condition. Starting with the packaging of your item, checking it and ending with a periodical test-run. This is Service Tracker's main goal. Keep your maintenance and service operations up-to-date. Visually inspect your items or inspect by using any other necessary equipment to make sure it is in a good working condition and all parts are in tact. After inspecting your item, it is time for a test-run! If it is a motorized item like locomotive, train, trolley, crane or any other item that is using electric or any other type of motor, it needs to be run for a certain period of time. Manufacturers might recommend a test-run time and if not then typically it is between 5-10 minutes of normal run, depending on the item.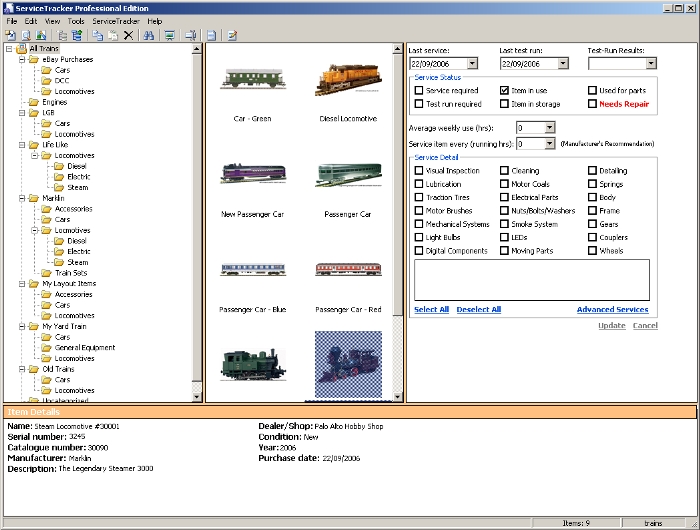 That is why we designed ServiceTracker Professional Edition™! The program was especially designed to keep track of all of your rolling stocks' service and maintenance. With ServiceTracker Professional Edition™ you can record periodical maintenance and service performed on your rolling stock.
Comprehensive Embedded Inventory System
The program keeps a full inventory of your model railroading collection. The inventory system that is include within ServiceTracker Professional Edition™ is easy to use yet powerful and comprehensive. You have the freedom to create un-limited categories and sub-categories of your entire collection, categorizing it exactly the way you desire! The program includes advanced reporting system that enables a complete report of individual categories or your entire collection. The database system is un-limited! You can add as many items you want. The only limitation is the size of your hard drive!
Advanced Service Tracking Mechanism
The software analyzes the items servicing information and checks the manufacturer recommendations, actual run-time and storage time. The earliest servicing time will be taken into account to maintain item's good condition. The software keeps track of the service schedules and reminds the user about inspections, service, maintenance and test-runs that should be done, on time! Every time you activate the software, it will remind you which items are scheduled to have a test-run and/or service. Special attention is given to past due service and/or test runs! After service and/or test-runs are done ServiceTracker Professional Edition™ requests to record the time and date of the action. User can print a full report of the items service and maintenance history, starting at the day of purchased.
Images System
The user may store an image of the item and the parts that were replaced or serviced. This feature is very efficient, especially with unique parts or special electronic circuits. Digital Decoders and circuits are to be checked and activated the same as mechanical systems. ServiceTracker Professional Edition™ is designed to keep track of all of your electronics and digital systems. The software provides a nice reporting system to maintain hard copies of your serviced items. The software comes with a built-in full tutorial and on-line help. We made it easy for use, mainly intuitive.
New Concept
This is the first time in the history of Model Railroading that such concept software is especially designed to maintain good condition of the model trains collection. The tool includes Live Update feature which enables FREE upgrades and enhancements via an automatic download directly from Tayden Design's web site.

Service Tracking Scheduling
The ServiceTracking system stores your item's service dates and features. With each program's execution the system will check the entire database service dates and will alert the user about service due items. After performing the routine service the user updates the dates and actions taken. The system automatically alerts about the next service period according to item's working hours and usage time.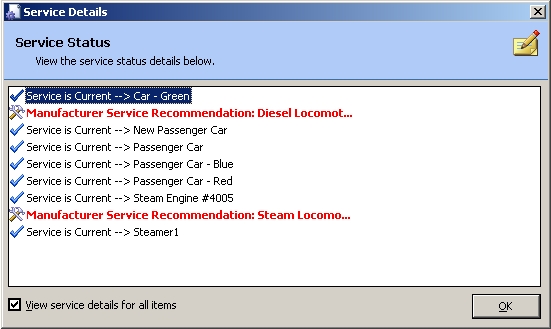 One of the key advancements of the program is its customizing capabilities.
ServiceTracker Professional Edition™
is fully customizable when it comes to service checks. User can add un-limited amount of additional services for his/hers items! This advanced feature enables the user to customize services according to any type of items.
User Friendly, Not for Computer Engineers only…
ServiceTracker Professional Edition™
is user friendly, mainly intuitive, yet advanced behind the scene.
Retail Price: $39.95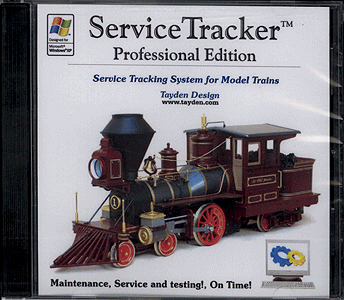 24 Hours / 7 Days a week on-line customer support. Any questions or suggestions, simply email us and we guarantee to get you back to you within hours! We Guarantee it!
Designed for MS Windows 7, 8,10
For any additional information please email: info@tayden.com